Puccini and Italian Opera- Tackling a Role in a Foreign Language Part One
6.25.2015
One thing every opera singer faces is the process of learning and internalizing new repertoire. Opera roles are a significant part of this, and can range in depth and length. Some roles are a walk in the park- a single scene, your character comes in and makes some relevant or quirky comments and then exits.  Boom.  Done.  Others however, for example when the opera is named after your character, are extensive and require learning a TON of music and words.
(The cover of my Ricordi edition score.)
This process can be overwhelming- there are an infinite number of aspects to consider… appropriateness of the role for your voice, notes and rhythms to learn, translations to understand, words to memorize and much more… How does the singer approach this process? Ask 5 different singers and I guarantee you'll get at least 4.5 different answers.
This is my version- and it's one that continues to grow and develop. Had I written this 5 years ago, it probably would have looked different. However the more I watch artists work their magic while on stage at San Diego Opera, and the more I work through my own repertoire- the more I am inspired and driven by what I think of as character based learning.
I'll tell you how I'm starting the process- but it must be understood that this is a work in progress.  It will require some monitoring to assess it's successes and failures.  My current project is to learn the role of Suor Angelica, from Puccini's Suor Angelica. This is a one act opera from the larger work, Il tritico which also includes two other one acts, Gianni Schicchiand Il tabarro.
My first stop? Surprisingly enough- the "Kloiber". Otherwise know asHandbuch der Oper, a German book written by Rudolf Kloiber (among others), published by Bärenreiter and used as a resource for roles and fach. Fach is a German concept of defining the voice beyond the titles of soprano, mezzo soprano, tenor or baritone- and then labeling different roles for different fachs. (Before I get in too deep- let me promise this, I will get back to the topic of voice type and fach. This is a confusing concept I know- but I want to press on for now!)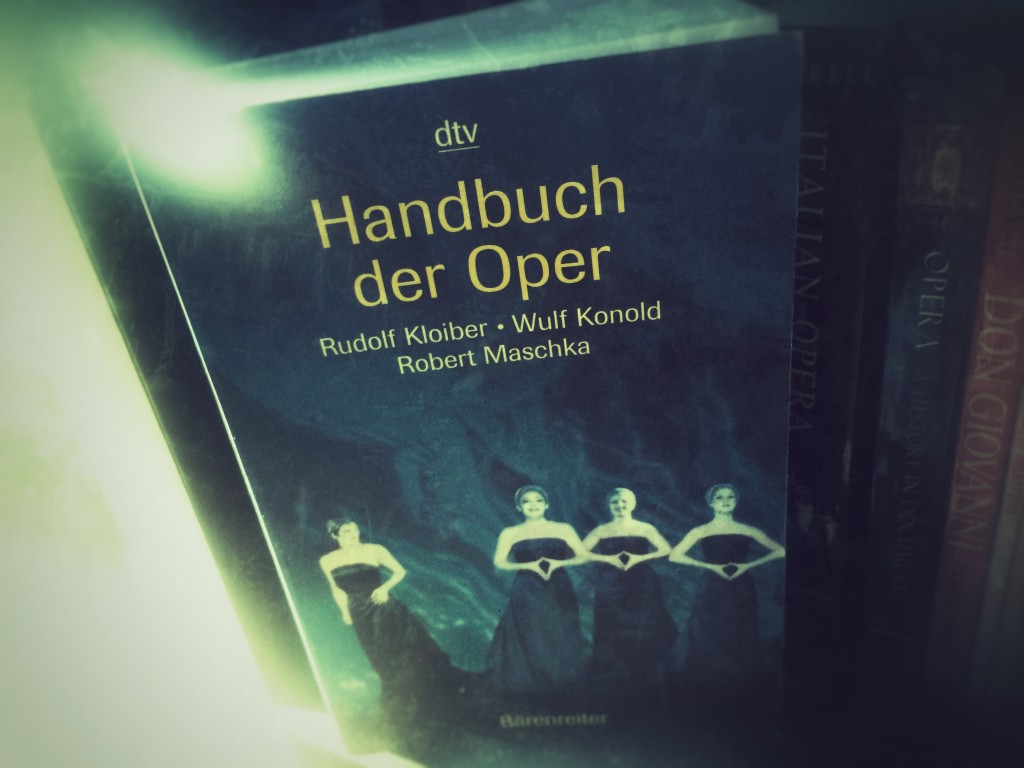 (My copy of 'The Kloiber".)
Why is this my first stop? Well it's important to know if the role is right for my particular voice type. Is this something I should even be singing? Is it something I would be hired to sing? Before investing a large quantity of time and energy to learn a role, it's good to make sure it's a match. Yep. It is- listed under "Dramatischer Sopran", or Dramatic Soprano is Suor Angelica.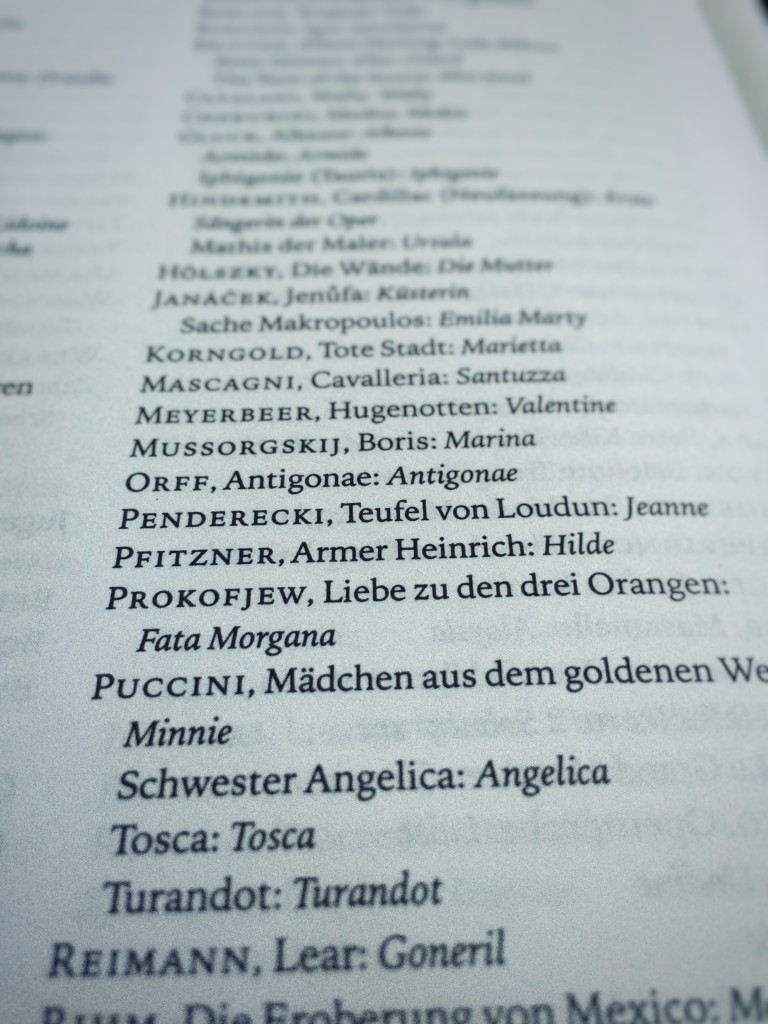 (Schwester Angelica:  Suor Angelica)
As opera singers we're singing actors. Not singers who act, or actors who sing… one is not more important than the other- the two have to co-exist. The learning process should also represent a synergy of these two elements. The role of Suor Angelica is Puccini in full verismo mode… people are killing themselves, lying, cheating, dying, they are working class, exiled, funny… the whole nine yards. The works from this period are about being human, and the audience experiencing this humanity through the music of the stories being told.
So what's next? Text and translations. To understand and communicate the story being told, I have to understand it inside and out. In English AND Italian. I have to find and read through translations of the libretto– who is doing what, and to whom? When? Why? Then go through and use those handy Nico Castel volumes I talked about in "Utilizing the New San Diego Central Library as a Musician… What a Resource!" to translate every line into English.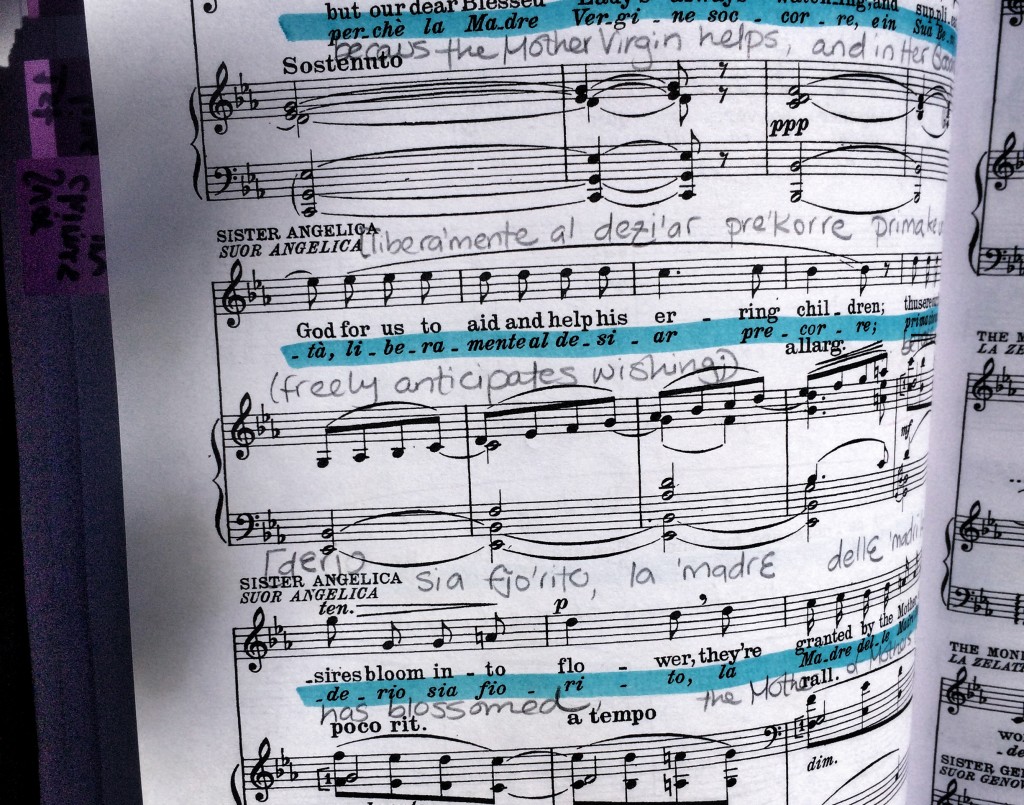 (Each line highlighted, with IPA for pronunciation as well as the translation.)
This is important not just for what Suor Angelica is saying, or what other characters are saying directly to her- but also what is being said about her when she isn't around. Navigating these translations will have a profound impact on my ability to connect with the story. This connection will guide my process for learning the actual music and memorization.
And to think… I haven't even stepped into a practice room yet! More to come as I work my way through Suor Angelica!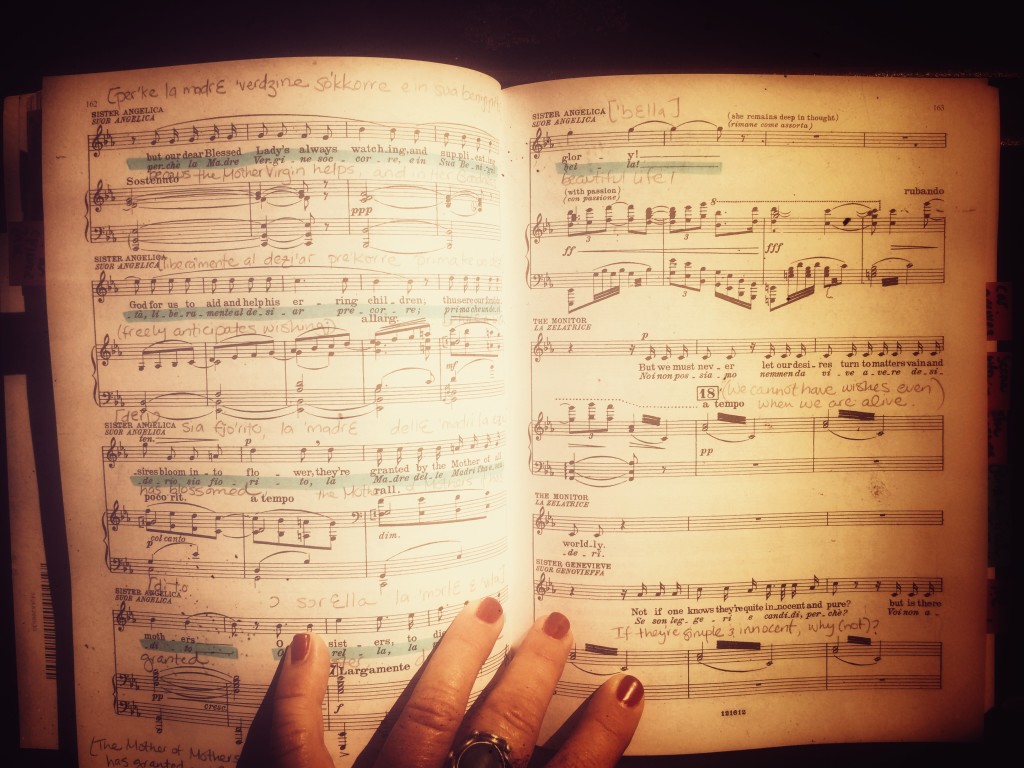 Keep reading and listening,
Anishka (aka Nishi la Tremenda)