The Art of French Food AND Music!
(6.13.2015)
"What makes a great chef? Well training and technique of course, plus a great love of food, a generous personality and the ability to invent hot chocolate truffles."
-Julia Child
I would argue that Julia Child's assessment of a great chef (click here to watch a fun remix) is very much like that of a great singer, add to the love of food the love of music- and definitely leave in the part about hot chocolate truffles!
This weekend, along with tenor Manuel Paz, I'll be performing a concert of French music accompanied by a special menu of classic Provençal offerings. This unique pairing is taking place at La Terrasse San Roman byChef Martin San Roman (a L'Ecole Lenôtre trained Mexican chef). Music and food together- a natural pairing!
(A view from the restaurant at La Terrasse San Roman.)
As I approached this concert and the concept of combining food and music, I was struck by the similarity in the approach to classic French cuisine and the study of French music.
When I asked local chef, Julia Velez-Hernandez (of Snap Hospitality, who gives cooking classes here in San Diego and trained at Johnson and Wales University, a culinary school steeped in the French tradition) about French food, she said the following are a few of the basic pillars:
-That it's regional.
-That it's decadent, yet simple.
-That it's important to allow the food to speak for itself.
-That the use of fresh ingredients is key.
-That there is a great respect for tradition.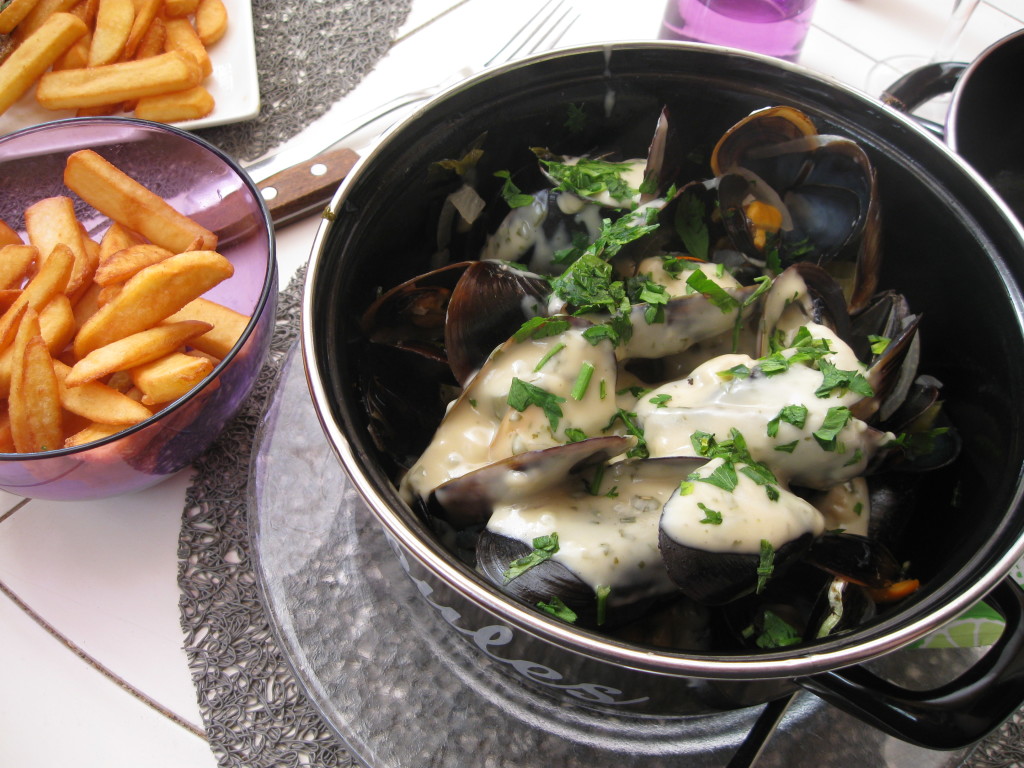 (Moules frites with a fresh thyme cream sauce that I enjoyed while in Marseille in 2009.)
A leading expert on French music, Pierre Bernac, states in his book, "The Interpretation of French Song" that "Thus it is the musical line, above all, that the singer must serve and respect… the true beauty, the true value of singing is the combination, the mixture, the indissoluble union, the mysterious alloy of melody and words."
Just as it is the chef's responsibility to respect the inherent individual quality of the ingredients as they blend them together, the singer must seamlessly blend music and words while giving each it's due respect. In Bernac's book he states, "(the singer) thus manifests his sensitivity, not only to the idea of the poem, but also to the music of its words".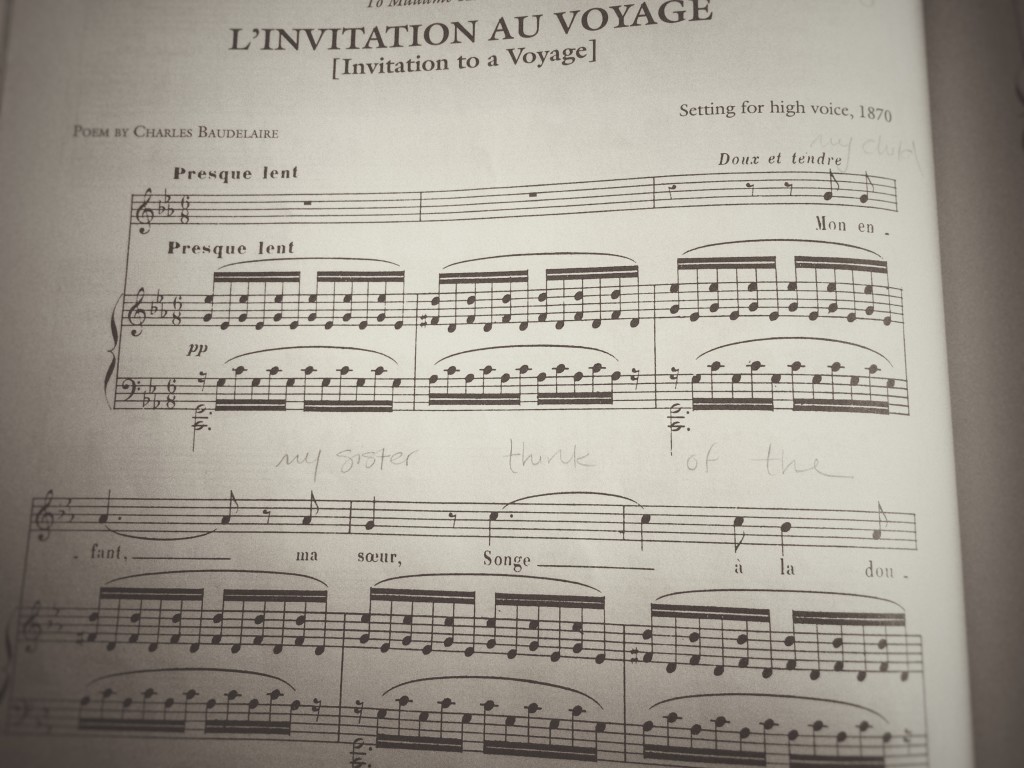 (L'invitation au voyage: a setting of Charles Baudelaire's poem by Henri Duparc.)
The French croissant is a terrific example of this- when done well, despite the additional ingredients, the rolling, the refrigeration and the baking process- you taste the delicate sweetness of the butter the second you bite into one.  The composer adds melody, harmony and rhythm to the words of a poem, yet the inherent meaning and sincerity of the words must still shine through crystal clear as the singer performs them.
Listen to a recording of L'invitation au voyage performed by Dame Kiri Te Kanawa.
In regards to tradition, French cuisine is famous for it's use of "mise en place", a phrase that means to gather and arrange all the ingredients and tools needed for cooking. The chef chops all her vegetables, preps her meats, establishes which pots and pans she'll need, arranges her spices and sets up a work space so that the art of cooking can flow.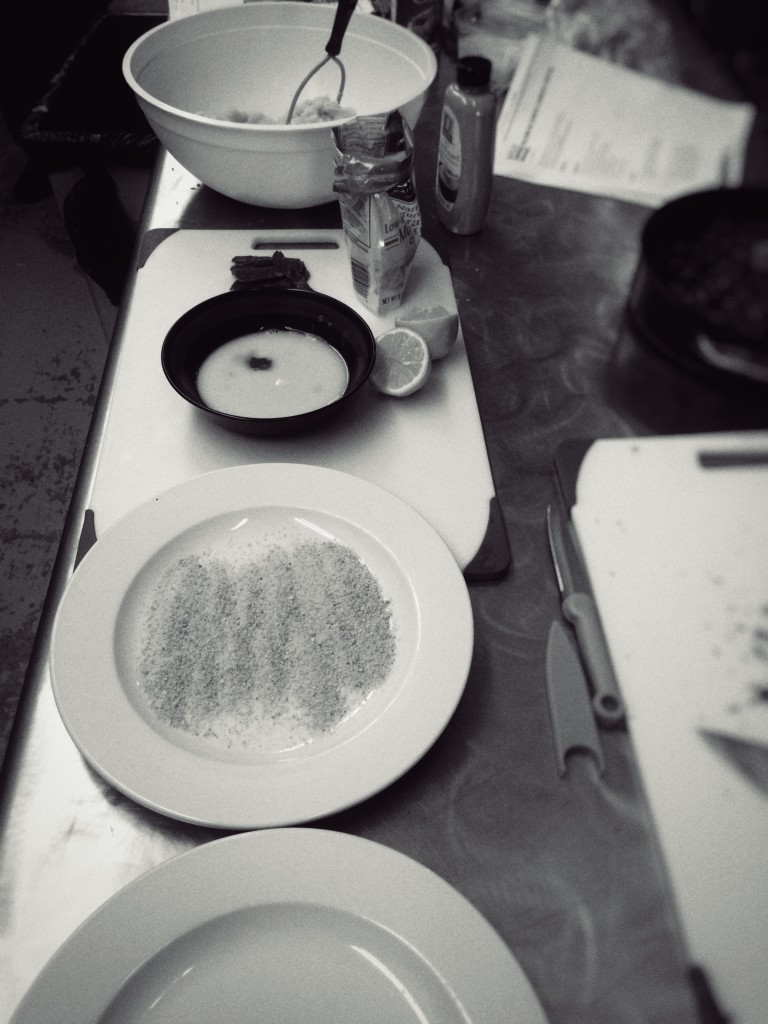 (An example of "mise en place", this one for potato croquettes.)
In an article on npr.org about thinking like a chef to live a more organized life, Melissa Gray, a senior at The Culinary Institute of America, puts it this way, "it's a way of concentrating your mind to only focus on the aspects that you need to be working on at that moment, to kind of rid yourself of distractions."
As singers we use much the same approach, we spend months or even years building our "mise en place" for a given song. We learn the notes, we learn the rhythms, the translations, and build the muscle memory into our technique. Then when we go to perform we have to focus on the performance at hand, rid ourselves of "distractions", and trust that all those "ingredients" will come together seamlessly.
As someone who has spent much of the last 9 years regularly going from a kitchen to being on stage, I can say there is definitely a synergy of creativity and imagination between these two art forms. Come experience the magic of this combination for yourself on Sunday in Valle de Guadalupe!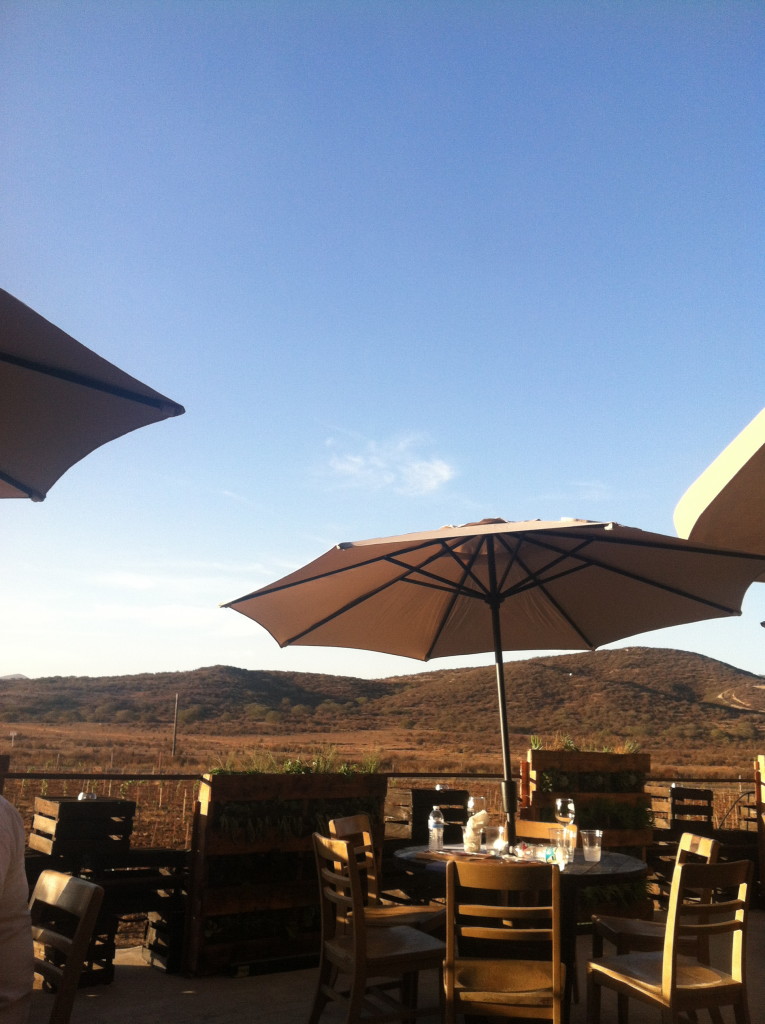 (Picture yourself here!  Enjoying delicious food and listening to gorgeous music.)
Keep reading and listening,
Anishka (aka Nishi la Tremenda!)
Click here for the Facebook event profile with more information!
Brunch Provençal at La Terrasse San Roman!
Join us for an afternoon of French music and food in Valle de Guadalupe!
Relax and enjoy a glass of wine, a special French menu created by Chef Martin San Roman and a concert of French music- presented by opera singers, including Anishka Lee-Skorepa, Soprano and tenor Manuel Paz.
June 14th, 2015
Entrance Ticket: $200 pesos/$15 dollars
La Terrasse San Roman
Alximia Winery
Event starts at 12pm, Concert at 1pm
Tickets available at the door on the day of the event.